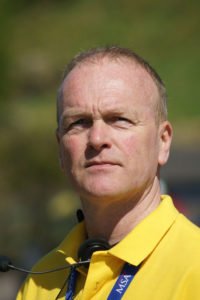 Dear Member/Competitor
I hope your plans for the forthcoming season are well under way, I have been reminded that entries for the Scottish Championship close on the 9th March so you may need to attend to this if you are intending to take part.
Entries for April Doune are open and filling up nicely, you can use the online form or snail mail if you like, if you have entered online and nominated to pay by cheque please make sure you send this to Billy.
The committee approved upgrades to the marshals posts on the lower part of the hill, this has been part of a list of upgrades we have been working through over the last few years along with repairs to the footbridge near garden gate and the draining of the track to avoid the seepage that sometimes occurs.
The club was very proud to have been awarded the Norrie Galbraith trophy for the best organized British Championship event last year and in fact was awarded it for both June and September so thanks to the team for a brilliant job well done.
There will be a work party on the 17th March between 11 and 3 if you have any spare time to help out please let us know.
We continue to look for sponsorship, if you know of anyone looking to support the club/event please let me know and I will follow it up.
Finally, June sees the 50th Anniversary of competition at Doune, we are planning a hog roast on the Saturday night (16th) and intend to invite static displays of old competition cars along with demo runs, if anyone knows cars of interest or would like to suggest invitees from days gone by that would be great.
We look forward to catching up with some of you in April, please check our newly revamped website which is mobile friendly for more information.
Tim
Tim Thomson
Chairman
26th February 2018