Doune Hill Climb NATIONAL 'A'
September 19, 2020

-

September 20, 2020

£145
To enter: Click here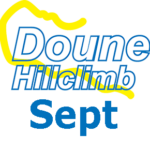 The meetings will be held under the General Regulations of the Motor Sports Association (incorporating the provisions of the International Sporting Code ofthe F.I.A.), these Supplementary Regulations and any written instructions that the organising club may issue for the event.
Doune meetings will incorporate rounds of the following Championships (please see regs to confirm which apply for each event)
Guyson Scottish Hill Climb Championship April/June/September
Highland Speed Championship April
MAXSport Competition Tyres (Scotland) Lowland Speed Championship April/June/September
Avon Tyres / TTC Group MSA British Hill Climb Championship June/September
Avon Tyres / TTC Group MSA Hill Climb Leaders Championship June/September
Scottish Speed Championship April
The June and September Doune National A events are open to all competitors holding a valid MSA Speed or Race National A or International Competition Licence or the equivalent RIAC licence.
All competitors and drivers must produce a valid Competition Licence appropriate to the class of vehicle.
Scrutineering at all events will be in class order according to the times specified in the final instructions. Cars must be ready for scrutineering at the correct time with the driver in attendance – if not competitors may lose their practice run.
JUNE AND SEPTEMBER DOUNE MEETINGS
JUNE & SEPTEMBER DOUNE SATURDAY PRACTICE
Saturday starts 0900 hrs Competitors must practice on Saturday to be eligible to compete on the Sunday following and will be expected to make a practice run and if time permits may make further practice runs. Further practice runs are at the discretion of the Clerk of the Course
JUNE & SEPTEMBER DOUNE SUNDAY PRACTICE
It is hoped to have limited practice commencing at 0900 hrs but this will only be available to competitors who have completed their Saturday practice or
attempted to do so. Sunday practice maybe curtailed to suit prevailing conditions.
JUNE & SEPTEMBER DOUNE TIMED RUNS
First timed runs will commence on Sunday at a time to be announced by the Clerk of the course on the day.
All drivers and vehicles must comply with MSA Technical Regulations.
The length of the Doune course is some 1,350 metres.